AM Contractor
AM Solutions introduces in the market a Contract Manufacturing method that is tailored to the needs of heavily regulated sectors: a complete and qualified management of the production chain can affect the economic value for the clients. Our approach is innovative in the Additive Manufacturing Market and is more valuable for and appreciated by our clients.
AM Contractor is the additive supply chain management service that focuses on integrated systems to bring value in highly regulated sectors.
Additive manufacturing concretely originates from both the experimental and the aid for prototyping phases. Even if production-related volumes are distant from the "massive" concept –except for few niche contexts- processes require rigorous quality and control. The industries at which additive brings main advantages require an approach more similar to that used in industrial production than in rapid prototyping. In this type of context, additive supply chain faces a gap - both generational and dimensional.
Unlike other industries where manufacturing companies can rely on a decades-long history and well-established and well-known work systems, additive service providers operate in effervescent niches, where news swarm and the capitalization is low.
"We help our clients to succeed in transforming, innovating and advancing their products and manufacturing processes, by providing them with an end-to-end portfolio of leading-edge, tailored and value driven services. We deliver projects and manufactured parts to our client with superior quality, on-time and fulfilling the service levels agreed."
Mr. Ubaldo Concilio - General Manager of AM Solutions - Manufacturing service partner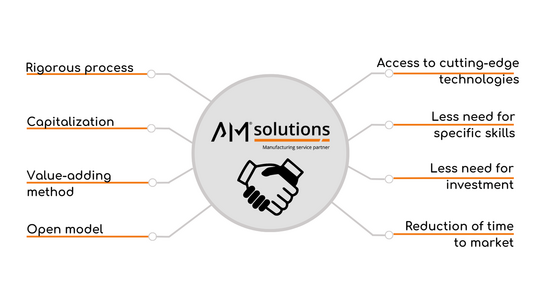 The Contract Manufacturing method introduces a deep innovation into additive manufacturing industry, where credibility increases thanks to:
Being part of the German Rösler group, with over 80 years of history and strong financial stability with hundreds millions of turnover;
The acquisition of an open model in which qualified personnel and innovative technologies meet and where R&D activities are performed through the collaboration of vertical specialists.
Being able to offer the market a product or an idea in a faster way and without going into industrialization, allows both to validate the project and to modify it -also in a substantial way-without the need to acquire new productive skills.
Additive competitive environment is characterized by high levels of dynamism and it is necessary to maintain a clear focus on the financial aspects, the product and its positioning. Finding a- even if formally rigorous- versatile industrial partner can be an essential mean to maintain the competitiveness in this sector.
AM Solutions is an innovation driver, strongly characterized by absolute precision and promises a timely outsourcing of the industrial process allowing partners to beat the global market.
"AM Solutions is the Rösler Group's vision for the future of additive manufacturing sector. Finishing the surface of additive manufacturing made parts allows the expansion of the technology in markets that could not benefit of this industrial revolution yet. With our help, they can now acquire the possibility to offer the whole process- from design to finishing- and guarantee the best achievable results today at the front end of the technology."
Mr. Stephan Rösler - President and CEO of Rösler Oberflächentechnik GmbH